Professional and Honest Clock Repair
Discover Clocks' provides expert and honest clock repair services for most antique, vintage and newer model mechanical clocks. I began collecting clocks many years ago as a hobby and as a result of the many clocks I took in for repair, I eventually became friends with a master clockmaker. He taught me the trade over the next several years. I found out that I really enjoyed working on clocks and have been doing it ever since.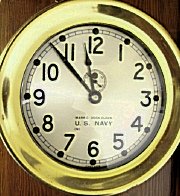 In 2006, I moved to Florida and started buying, selling, and repairing clocks in the Crystal River, Ocala area. I look forward to repairing all of your clocks.
Your Clock Repair Question
Before I get into my repair service, let me share a service offered here for those of you who would like to ask a clock repair question. Many times, there is a very simple defect, that you can repair yourself to save your clock a trip to the shop.
So, I thought a great way to save you time and money would be to have a forum where you can ask your question before taking your clock to a shop. If your questions are clearly stated with specifics about the clock type and the problem you are having,there may well be someone out there that can help. I will also answer some of these questions as time permits. I welcome any other visitor here with the knowledge to answer your question to feel free to help by commenting.
You can ask your question here.
View other visitor's questions, or answer them here.
Clock Repair Service
All clocks that come in for repair will be evaluated before repairs are made and the owner contacted for approval of work needed. As a clock collector myself, I know that the decision to repair a clock or not can only be made by the owner of the clock. Only they can know what their clock is worth to them.


It is important to have a clock serviced every few years. Even though a clock will usually run for decades without it, damage is being done to the pivots, gears, and bushings every day they are run dry or dirty. If a clock has been run this way for a long period it will most likely need a complete overhaul.
Our overhauls consist of: dis-assembly and inspection of all parts, polishing of pivots, worn bushings replaced, ultrasonic cleaning, mainsprings replaced (if needed) and lubricated with mainspring grease, oiling with high quality clock oil, adjustment of escapement, re-timing, and an inspection of the case parts such as glass, hinges, hangers, etc. Then, after reassembly, the clock is tested for at least a week.


Get Your Clock Serviced
If you live in Citrus County, Levy County, Hernando or West Marion County, Florida, I provide in-home service for large clocks, such as grandfathers or grandmothers, or for clocks that are difficult to move. Of course, you can also drop off your clock at our shop if you prefer.
To get more information, use the repair form below. Simply leave your name and email. I will get back to you as soon as possible.
If you want to drop off your clock, the address of our shop is:
Discover Clocks 6373 Suncoast Blvd. Homosassa, FL 34446
Phone: 352-586-5431
We are located in Howard's Market, Building ED 11 on the south side of the market. This is 3 miles south of Homosassa Springs on Rt. 19. It's 17 miles north of Weeki Wachee.
If there are no clock repair services in your area, clocks may be shipped directly to me for repair. Please contact me via the repair form below and I will get back to you as soon as possible.
Read our Privacy Statement here.

The form below is for clock repair questions. If you know your clock needs service, use the repair form above.
What Other Visitors Have Asked
Click below to see questions from other visitors to this page...If you can help them with their question, feel free to comment.

Need more information? Search this site.
Leave Clock Repair and Return to Homepage