Large or Small, All Unique Clocks Tell Time
Early in clock making history, unique clocks were the rule because at the time, all were hand made one at a time. The first mechanical clocks that were built in the fourteenth century were large and cumbersome chiming clocks that struck the hour. The early technology wasn't sophisticated enough to provide accuracy down to the minute, so there wasn't a need to add the complexity of hands and a dial to indicate the time.
Centuries ago, when these first clocks were built, time wasn't standardized at all. The length of an hour varied by the season and every day was divided into 12 hours of daylight and 12 hours of darkness. But once Europeans decided on a uniform measurement of time as sixty minutes in an hour and 24 hours in a day and the accuracy of clocks improved with the use of a pendulum, clocks told time in terms of both minutes and hours.
From there, the concept of a timepiece is limited only by the imagination of a clockmaker. Anyone who enjoys clocks or intricate technology can spend hours and hours in museums, looking at books or searching the Internet for the best of old unique clocks or watches. Timepieces come in every size and shape imaginable.
The grand era of American clock making occurred from the 1850's through the 1920's. Earliest among American clocks is the ogee, also called OOG. These clocks have heavy old weights ensconced in a bulky rectangular case typically 16 inches wide and just over 2 feet tall. OG clocks were made from the 1840's through the 1880's.
Once American clock makers perfected the spring-driven mechanism, heavy weights were no longer necessary.
With standardized brass movements, clock makers were free to apply creativity to the clock cases. Wooden cases took on many forms. Consider, for example, Simon Willard's banjo clock, gingerbread clocks which featured a highly carved flat front, frequently with a scalloped top and geometrically shaped sides. While we might consider some of these gingerbread clocks as somewhat garish today, oak gingerbread clocks told the time in the kitchen of many an American home in the late 1800's and early 1900's.
More expensive versions of this style of shelf clock were made from walnut and typically featured a sawtooth top with swirls and acorns on the sides. With their more elegant design and fine hardwood, these clocks made a fine addition to the formal front parlor.

Steeple clocks generally were smaller in size than a gingerbread clock. Steeple clocks were shelf clocks with a rectangular case with a sharp V top with finials on the side. Also popular was the beehive clock case with its V top being much more rounded like the top of a beehive.
Another general unique clock category is the mantel clock , named because it fit nicely on the fireplace mantel. Tens of thousands of black mantel clocks, with wooden, cast iron or marble cases, were made by every major American clock maker through the 1920's. There is an endless variation in the front styling of black mantel clocks. Many of the clock models featured two or three-dimensional columns on either side of the clock face plus gilded decorative work plus the possibility of other case embellishments.
But there were more than wooden, cast iron and marble shelf clock cases. China clocks are particularly interesting first because the porcelain cases were imported from Europe and American clock makers added the clock works. These unique clocks are so fragile and were made in an era where all deliveries were done either by horse-drawn conveyances or early automobiles over rough roads.
The fact that so many china clocks survived is amazing. These clocks are also interesting because of the variety of shapes of the cases and the scenes painted upon the china, which could be floral or portrait. Another interesting aspect of these unique clocks is that more expensive models had an open escapement which was not typical of other clock styles.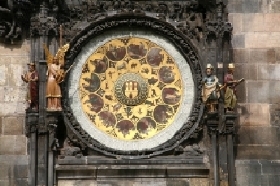 The most expensive American clocks mimicked the statue or figural clocks of Europe. The Ansonia Clock Company was the premiere manufacturer of American statue clocks. There are three typical styles of statue clocks: the clock dial and clock works sit on a pedestal with the human figure to left or right or two figure flank the clock; the clock is enclosed in a flat top case with the figure attached on top of the clock; or the human figure stands on a pedestal holding a free swinging clock. Swing statue clocks are among the most prized American clocks and are a wonderful representation of the marriage of art and clock making in miniature.
These are descriptions of just some of the wide variety of American shelf clocks. There are still all the wall clocks, the banjo clock , the tall or grandfather clocks , the alarms clocks , the novelty clocks, the double dial calendar clocks, and the list goes on. No wonder that clock collecting and learning about clock history is such a fascinating business or hobby; there is an endless variety of unique clocks to study.

Unique clocks that you may find interesting:


Tide Clocks - These unique clocks tell time of tides rather than time of day.

Kit-Kat Klock - A tail wagging, eye moving kitchen wall clock.

Anniversary, or 400-day clock - They run for about a year on one winding. Has a rotating pendulum and is covered with a glass dome.

Radio controlled Atomic Clocks - These clocks are great for those people that want the most accurate clock available. These clocks link to the Atomic clock in Boulder, CO (in the US) to keep the clock accurate to the fraction of a second.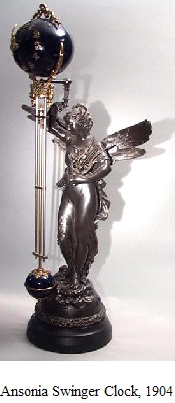 My good friends, Bryon and Donna Imbt sell great unique and antique clocks on eBay. They offer excellent service and all their offerings are in working order (I know this because I do some of the repair work for them). Their current listings are below.


Do you have a favorite clock you would like to show off? Or, maybe you have a question about a clock you own. If so, check out our Clock Talk page.
Need more information? Search this site.
Back to Discover Clocks Homepage.


Read Clock Collecting Tips back issues.