Problem with German Mantle clock regarding chimes
by Paul
(Edenbridge, U.K.)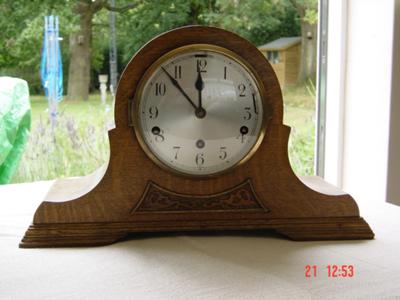 Chime Clock
The clock in question is a Mantle clock; believed to be German; It has both 'Westminster' & 'Whittington chimes'.


The silent mode lever was not working, and I decided to remove the movement, investigate and photograph. I have enclosed the photos.
It appears that there is a rod/link missing. Whilst I had the movement out, I decided to give it a simple clean and oiling. It appears to be running very well, but I have a second problem now with the 'Westminster' chime. The first note strikes approx 3,1/2 mins before the 1/4, 1/2, 3/4 and the hour before the rest of the melody. The 'Whittington' chime is unaffected.
I fear I may have disturbed something when I air dusted and lightly brushed the movement, I also had to man-handle it back into the case, which I found difficult trying to locate the two levers through the clock face. I would think these two problems are straight forward for an expert, but I am a 'Newbie' just starting out. I would be very grateful if anybody could point me in the right direction.
Best regards, Paul.