Gothic New Haven Clock ca. 1860-1870?
by Mike O'Malley
(Brooklyn NY)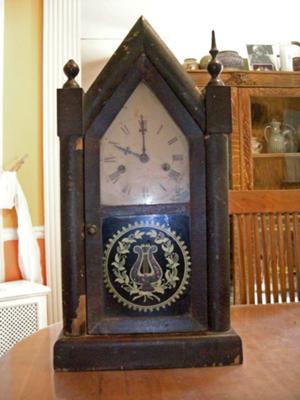 New Haven Gothic Clock
This clock was my great grandfather's. I was probably purchased in New York or Vermont, and carried West first to Lead, SD and then to a homestead in Broadus MT about 1900. I am told it is a 30-hr movement with a painted zinc dial and two keyholes, one for the hour chime and one for the actual timekeeping movement. The pendulum is missing, so I would like to know what size and type pendulum is the proper replacement. The brass movement is held together with pins rather than screws, and is secured to the back of the case by wooden blocks held in by wood screws.Label says "Manufactured by New Haven Clock Co., New Haven Ct. U.S.A" Any information on cleaning and lubricating this clock would be appreciated, and any more exact date of manufacture.
Return to Clock Repair Questions.