Horse Drawn Covered Wagon
by Debra Griffin
(Sanford, Maine)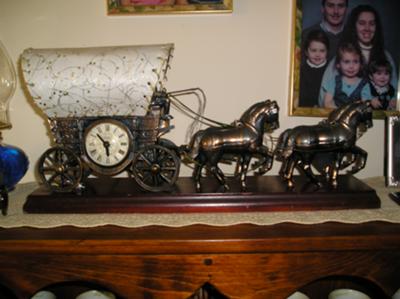 Horse Drawn Covered Wagon
I recently bought this in an antique store. On the back of the wagon it says United Metal Goods Co., Inc. I would like to know it's age more than it's value. I found it be a beautiful piece with a light in the wagon that works. Also, The driver has an arm that raises and lowers his whip. Any info on the company and clock would be greatly appreciated.
Click here to read or post comments
Return to Identify Your Antique Clock.
United We Stand
by Joyce
(Gaastra, MI)
I have a wall clock that says United on the face. It's round with Roman numerals on it, domed,& has this really neat spiral disc (second hand?) attached to the middle of it, on the inside.

On the back it reads:

USE ON A.C.CURRENT ONLY 60 CYCLE-115 VOLT-2W
Manufactured Exclusively By-
UNITED CLOCK CORP Brooklyn, New York
MODEL No. 47.

Also, it has a house-shaped symbol with CSA
& the numbers 13385-5.

It works good & when the disc spins(along
with the design on the face) it's really unique. I've tried to find out some info on it, but keep drawing blanks on "United Clock Corp."(Ansonia?).

Any info would be appreciated. THANKS
Click here to read or post comments
Return to Identify Your Antique Clock.
The Banjo Clock
by Teresa
(Bushnell, Florida, US)
We have a clock that looks like a banjo. It was made by the United Clock Manufacturing Co., of New York.

Its made of brass and is about 30 inches long. Does anyone have any info on this clock?

Thanks, Teresa
Return to Identify Your Antique Clock.
Telephone Clock
by Sherry
(Greencastle, PA)
We have a telephone wall clock made by United Metal Works of Brooklyn, New York, with Session United on the face of the clock. On the back it still has the original label that says its #927.

It has been hanging on our wall since 1978. We were wondering what the value of this clock would be. It is in very good condition and is still in working order since we still use it today.

Thank you very much for all your help.
Click here to read or post comments
Return to Identify Your Antique Clock.
Americana Ship Clock from World War II
by JUDY FIELDS
(BALTIMORE, MD)
The story is that my uncle brought this clock to my grandmother on his way back from the War. I know it's not an expensive clock, but I know it is at least 50 years old.

This clock is an Americana clock. It is a wooden ship, with metal sails and original strings. There are two night lights on each end. The clock in it was manufactured by United Metal Goods Manufacturing Company, Incorporated, in Brooklyn, New York,and licensed under Westinghouse Electric and Manufacturing Company, under Patent #2,140,385.

I'd be interested to know the value of this clock.
Click here to read or post comments