Terminal Gilbert Mantel Clock
by Bill Bradford
(Cambridge, England)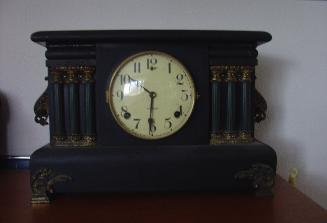 Gilbert Mantel Clock 2255
I bought my Gilbert Mantel Clock from a guy in the UK 8 years ago as he was returning to the USA to die - terminal prognosis. Fortunately he is still living!!


The clock is also in fine health. It is a Gilbert Mantel Clock, Black Wooden Case with full chimes. It works well and chimes deeply.
I have tried to find out some history to no avail. It has a serial number on the base label (original) 2255. It has had a new Gilbert face fitted but the original is still available. I would be interested to know some estimate of value.
I live in Cambridge England but our office is is Fort Myers, Florida.
We bought the clock when we lived in an Old Mill where it was very much 'at home' but we have moved to a smaller modern home and it is now out of keeping with the decor. It would be good to find a new home for it.