The Gilbert Clock Company
The Gilbert Clock Company started its long history of clock making in December of 1828. It became one of America's giants in the industry, spanning over 130 years. Originally known as Marsh, Gilbert and Company, it was founded by William Lewis Gilbert (1807-90) and his brother-in-law George Marsh when they purchased a clock shop servicing the Farmington and Bristol, Connecticut area. Around 1834, they moved the company to Dayton, Ohio but returned to Bristol after only a year.
In 1837, John Birge joined the firm, and the name was changed to Birge, Gilbert, & Company. Shortly thereafter, Chauncey and Nobel Jerome and Zelotus Grant became partners with Gilbert, and in 1837 the company was know as Jerome, Grant, Gilbert, & Company. This company manufactured Jerome's cheap brass-movement clocks.
In October of 1841, Gilbert moved to Winchester (called Winsted at that time), Connecticut and purchased a clock factory with Lucius Clarke. This new partnership was named Clarke, Gilbert, & Company. They produced inexpensive brass clocks from 1841 to 1845 when William Gilbert bought out Clarke's share and continued operations as W. L. Gilbert & Company. In 1848, Clarke re-purchased his shares and the firm was known as Gilbert & Clarke.
In 1851, the company was re-named W. L. Gilbert & Company, and continued the production of the brass-movement clocks until 1866 when a joint stock company was formed. The new company was named The Gilbert Manufacturing Company. It operated in the same Winchester factory until April 2, 1871 when the factory was completely destroyed by fire.
Just three months later, in July of 1871, Gilbert bounced back from this tragedy and formed another corporation, William L. Gilbert Clock Company. The new firm built two four-story brick buildings and hired a new general manager, George Owen. In addition to operating his own business, Owen managed the clock factory for the next 20 years. William L. Gilbert died in 1890, but the company retained its name and continued operations under Owen until 1900.
After the turn of the century, the company continued profitably and added more buildings and a larger inventory of clocks until the recession of 1907. From then to 1914, business continued to fall off and the company nearly went bankrupt, but was allowed to continue operations by its creditors. With good management, the company returned to a profitable status by 1920 and paid off all it's debts by 1925.
The company was put into bankruptcy in 1932 when hit hard by the great depression. The E. Ingraham Company of Bristol, Connecticut tried to buy the entire company at that time but for some reason never completed the deal. After two years of receivership, the company worked its way out of debt, and changed its name to the William L. Gilbert Clock Corporation.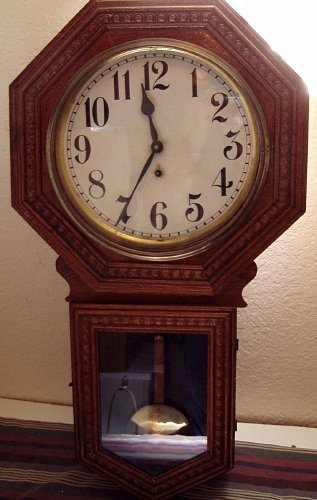 During World War II, the company was one of the few American clock companies allowed to continue producing clocks; instead of having to make war material. They made mostly alarm clocks since these were needed even during a time of war. People needed to get to their war-related jobs on time. Since metal was needed for the war effort, Gilbert had to use pressed paper or papier-mâché for the cases of these alarm clocks.
As was the case for most of the giant clock companies, the financial problems continued after the war. Trying to stem off another bankruptcy, the William L. Gilbert Clock Corporation began making adding machines in 1953. Finally, in 1957 the company was taken over by the General Computing Machines Company and the name was changed to General-Gilbert Corporation. In 1964 the clock division of the corporation was sold to Spartus Corporation of Chicago, Illinois for a half-million dollars.
Over the 130 plus year history of the Gilbert Clock Company, many fine clocks were made. There are still a lot of these clocks in homes today that still work just fine. Some of the styles they made are black mantel , wood-finished mantel, pressed-wood kitchen, schoolhouse, regulators, office wall, calendars, and alarm clocks. Gilbert clocks are a good choice for collectors. They are increasing slowly in value, and although not as plentiful as some of the other American clocks, they can be found with a little diligence.
As with most collectibles, a great source for finding Gilbert clocks is EBay. Read the descriptions carefully and look at any pictures provided. Also, don't be afraid to ask questions of the sellers if there is anything you do not understand about the clock, shipping, etc. Finally, check the seller's feedback rating. These simple steps will go a long way to make sure you are getting what you want. You can buy a new addition to your collection today by checking out the live Ebay listing below. (If you want something other than a Gilbert, just type it into the search box provided.)





Need more information?


Back to Clock Companies.