New Haven Mantel Clock
by V Ratliff
(Jasper, FL US)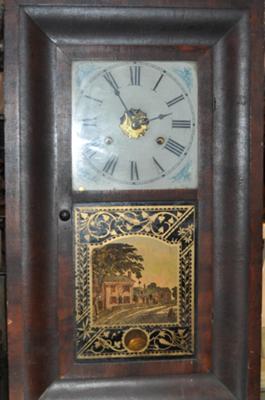 Front View of OGEE Clock
Early 1900's to mid 1950's


Dark solid wood cabinet that is rectangular in shape
Face of clock is white with 2-small whole
Door is rectangular with small wood knob to open
The pendulum inside is gold, the size of half-dollar or slightly larger and very ornate.
It has 2 very heavy iron weights inside.
Bottom of front door on outside has a scene that is painted in gold. There is wording inside that describes how to use your clock and also states that it is a ------ hour clock. But I can not make out the hours, some of this paper is missing.
The paper does say it is made by New Haven Clock Company in New Haven CT.