Unique Black Forest Clocks

We've all heard the term Black Forest clocks, but where exactly are they made? Bavaria, a state in southern Germany bordering Austria, became a major clockmaking center in the late 1500's and early 1600's. The cities of Augsburg and Nuremburg became the center for production of early ornate brass cased clocks, novelty clocks and automata. Another stage in the history of German clocks involves the development of the cuckoo clock in the Black Forest region of Germany which is the name given to a wooded mountain range in Baden-Württemberg, southwestern Germany, bordered by the Rhine River valley to the west and south.
Around 1740 Franz Ketterer made the first cuckoo clock, so named because the cuckoo bird, a real bird native to that area of Europe, emerges from its house to announce the hour. Cuckoo clocks are unique since the clockworks also involves a bellows mechanism that is responsible for imitating the actual call of the cuckoo bird.
When a friend of mine took a trip to the Black Forest region, he was out in the countryside and heard what he thought was a cuckoo clock announcing the hour. His first thought was that he had never heard such a loud cuckoo clock to be able to hear the sound so clearly from outside the house. Then he realized that he was miles from the village. At that point he came to a full realization of the ingenuity of the early cuckoo clock makers in fashioning bellows that so closely replicated the sound of the cuckoo bird plus the imagination of Herr Ketterer in using the call of the cuckoo bird to announce the time.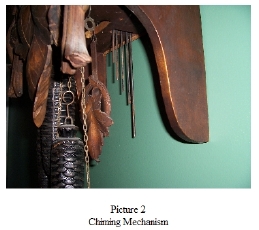 The cuckoo clock shown in Picture1 has been dated circa 1890 to 1900 based upon the characteristics of the clock works. This cuckoo clock is unique in that it is an antique clock that both announces the hour with the cuckoo sound and chimes the quarter hours as can been seen in Picture 2.
In Triberg, Germany in the heart of the Black Forest clockmaking area, you can still visit true clockmakers in the neighboring village. There are families that operate tiny clock shops specializing in hand-carved cuckoo clocks. Men do the intricate carving of the main clock case as their fathers before them. In some cases, the entire family works on different stages of the clocks. Picture 3 shows an outstanding clock that my friend brought home from his memorable trip to the Triberg area and its fine clock museums and shops.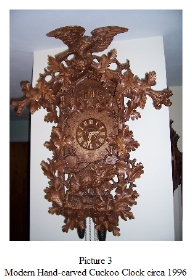 Looking for more information?
Back to Cuckoo Clock