Antique German mantle clock, or not?
by James Graham
(Rockhampton)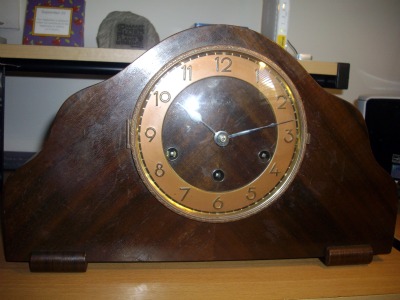 Mantel clock
I bought this clock from a gentleman who was clearing out some of his collection. He told me it is German-made and over 100 years old (about 120 years).


It has no identifying labels or dates on it. I asked him how he knew its age and origin and he said it can be assertained by the working parts of the mechanism (or something like that). The only identifying marks on it is the bottom right corner of the mechanism plate has written on it 12cm and under it 190,66.
The paper label is obviously quite old. The info is generic about how to start and wind the clock. Item 7 however states "with Whittington-Westminster chime models see switch on dial to change the chimes when desired.
It chimes every 15 minutes. The quality of the chime is quite deep and rich for the size of the clock. It plays that typical westminster melody.
The base of the clock is fairly rough compared to the rest of the clock. On it are four tacks which appear to have held something like an ID plate (that would have been helpful). The pictures generally give the visual information about it.
I would appreciate any help on identifying the age, origin and maybe even value of this clock.