Zodiac Wall Clock
by SARA LAFRATTE
(USA IOWA)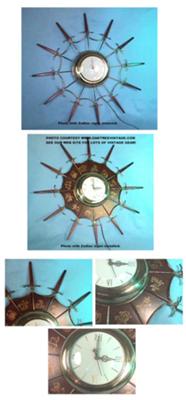 Zodiac Wall Clock
"Signs of the Zodiac" style starburst electric wall clock. Features ivory colored clock face center with gold embosed numbers with brass details.


Wood tipped brass spines at each number with Zodiac signs at the end of each. Made in early 1960 has UNITED MODEL 203 on back
Return to Identify Your Antique Clock.