Wm L Gilbert - Mantle/Shelf Clock
by Alister
(Yeppoon, Qld, Australia)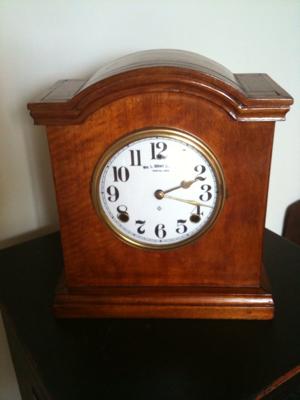 Gilbert Mantel Clock
Hi, I just purchased this clock and would like to know a bit more about it.


On the Face
Wm L Gilbert Clock Co.
Winsted, Conn.
With a G in a diamond below the centre.
Inside, stamped on the back of workings
G in a diamond,
26
manufacturers name, as above
Nothing written on the wooden case/box at all. Looks like there may have been a label on the back cover.
It has a lovely chime sound and counts the hours and also chimes once on the half hour.
I have read about the maker but cannot find one similar so I suspect that the case may not be original??