William S. Johnson 30 hour clock
by Brenda Christensen
(SLC, Utah, USA)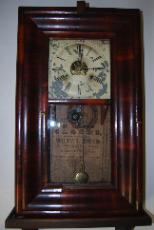 William S. Johnson Clock
This clock has been in my husband's maternal family since at least 1957, which is when my husband remembers being lifted up to wind it by his grandfather, Rufus Johnson.


When the house in Concord, CA was remodeled, a niche was built above the fireplace for the clock.
I am trying to date this clock. It may have been a wedding present to the grandparents Johnson.
It's label states "Manufactured and Sold by William S. Johnson, 49 Courtlandt St. New-York"
I can find little to no information about William S. Johnson, clockmaker, other than he may have been a competitor of Seth Thomas.
It has original glass held in by wood, the "I" is imperfect, as in hand painted. There is some damage to the case where some of the OGEE veneer is missing.
My Mother in law is quiet on this, stating that she doesn't remember the clock's history, only remembers it in the parlor. That's the earliest known history of the clock.
The latest history is that last year my father gave us a hideous clock for Christmas and when I returned it, I made a deal with the clock shop to have their master clock person repair the movement and hand manufacture the missing pieces for the credit on the clock we did not want. When it was finished, my husband built a shelf for it with original lumber from our 1906 home in Salt Lake City, Utah.
If anyone has any information to help my research, please write a comment to this page.
Talk about living history!