WHO MADE IT AND HOW OLD IS IT
by Neeron Neslo
(Milwaukee, WI, USA)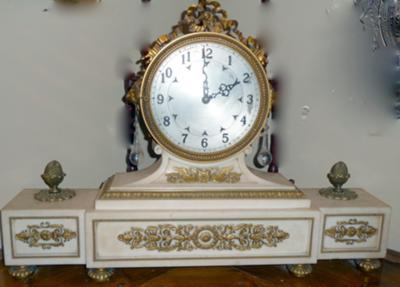 FOREIGN OR FAKE CLOCK
The clock was acquired when a famous hotel was renovated in Chicago. I've been told it's an antique by 2 dealers and it's a reproduction by another antique dealer.


It weighs well over 100 pounds. I think it is Marble and bronze but I would not bet on it. The original works were removed by my husband and replaced with battery operated works which keep good time and chime. The reason given that it was a reproduction is that it has no holes in the face of the clock for keys to wind it. Ignore the crystals on the picture. Those are removable and hanging on wires.
It measures 29 1/2" Long by 20" High. There is no brand name of any kind on it and only has markings on the back of the trim on the left side which could be an engravers mark and on the right side of the back of the top trim there is the number 202.
If it is truly and antique, I'm sorry my husband removed the original movement but it's too late now. Whatever someone can tell me about this clock would be appreciated especially how I would tell if it is a reproduction.