What make of Marine Mechanical Clock is it?
by Don
(Fairfield, Pa)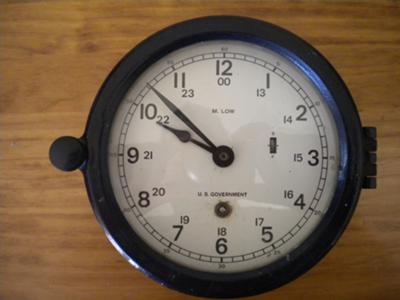 Marine Clock
I know the history of this 6" marine mechanical clock. It served time on board a US Naval Vessel until 1985.


At first I thought it was a Chelsea clock and after talking with Chelsea, it may not be a Chelsea after all, but a Seth Thomas (I think).
The back plate does not have a Chelsea stamp as it should have. It does have a stamp of a ships wheel with "LOW NEW YORK" stamped inside the wheel. Below the wheel is the serial number A458168. If this were a Chelsea Clock, it would represent a WWII era clock. But the Chelsea folks say they did not put a letter in front of their serial numbers. In the 1940's, not everything was documented as it should have been by today's standards, so I believe there is a gray area in knowing all the details.
I do know M. Low was a supplier to the Navy, and it is possible that Chelsea could have sub-contracted their clocks and put the M Low stamp on it...but again I'm not certain. To the best of my knowledge, M Low Instrument Company was a wholesaler/supplier that did not make their own clocks.
In searching the web I've seen a clock identical to mine (a Seth Thomas), only it had a second hand. My clock does not have a second hand, and in close examination, was not built with one. M Low is located just below the number twelve (in picture), and again in small print below the number six at the edge of the face.
That's about it. Any information you may have in helping me identify the actual manufacturer would be of great help. Thanks!