What is this label telling us?
by Janice G.
(Germantown TN)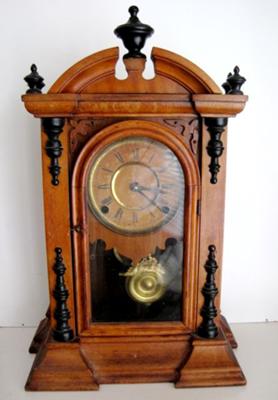 Front of clock
Dad obtained this clock at an estate sale 40 years ago. It has been displayed just as he brought it home. It has half a label on the back.


I think it is from E. Ingraham Clock Co. but have never been able to identify the model or date it. I think someone in years past may have tried to restore it and it may have a marriage of parts. The date on the back of the pendulum is Dec. 11 '77 (1877 I presume). Can someone help us identify this one. Thanks.
Return to Identify Your Antique Clock.