Waterbury Wall Clock W/No History
by David Shroyer
(New Philadelphia, Ohio)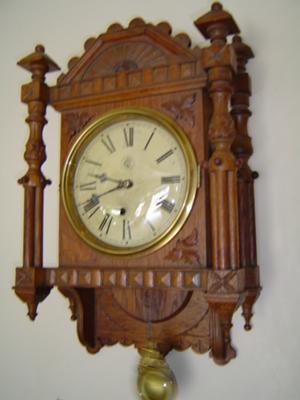 Waterbury Study Clock
I was given this Waterbury Wall Clock W/Pendulum several years ago by my now deceased Aunt. She had stumbled upon it somewhere here in N.E. Ohio at a yard sale. Paid $50 as I recall her saying. She brought it home, my Uncle smiled and said, "What another clock that don't work?" She nodded in affirmation and proceeded to dust it off, at least to make it look nice. "We don't have one with this much character!" she exclaimed. It had a broken minute hand. Both pieces were there but the clock face look strange with the piece missing from the hand. The convex glass was also missing. The lonely brass frame which once held the glass was empty. One of the bottom front wooden ornate tips was broken off and gone completely. Also missing was a wooden corner figure of a leaf. My Aunt was nonetheless pleased with her purchase, secretly she hoped that it would be worth a small fortune after she got it back into shape. It had no key so it was never wound to see if it worked at all as far as I knew.


Well, my Uncle passed five years ago and her desire to have the clock brought back to it's former glory was all but faded and dried up. Several years ago, she boxed it up and brought it to me asking me if I was interested in taking the clock and seeing what I could do with it. It still didn't look like much, the broken piece of the minute hand was still there, laying on the clock face, the pendulum lay beside the clock. It had hung in place for the several years she had it, broken as the day she brought it home.
I smiled and accepted the clock. I had no idea it was a Waterbury clock. All I could find was a strange symbol on the clock face. It looked like a W and a C and maybe another C intertwined not making much sense to me. I removed the broken minute hand and roughly soldered the piece of the hand back where it came from.
I had purchased my first wall clock, a Waltham pendulum windup so I at least had a key to try it out. I took and hung the clock in the garage and tried the key, it fit and there was no resistance when I started to wind the mechanism which pleased me, telling me at least it wasn't over wound.
After 10-15 turns of the key, I started the pendulum swinging and it took off, at least for several minutes it swayed to and fro. Much to my chagrin, it stopped and I again started the pendulum swinging, this time it went for almost 5 minutes before it stopped. I adjusted the clock, assuring that it was level front and sideways.
I must have tried it a dozen times before I gave up. I even wound it some more in case I hadn't gone far enough the first time. Now me, knowing nothing at all about clocks did what could have been the worst thing for a clock that could be done, I got out the WD-40 and gave it a good soaking from the hole on the underside where the pendulum hooked on. (I can well imagine those of you who know what WD-40 will do to a clocks internal parts are yelling at me "Idiot"!) It was a temporary fix. It worked for several weeks and then nothing once again.
I called someone and asked what I could do and he told me before I told him about the WD-40, never to use WD-40 on a clock. He had a son-in-law use it and ruined a clock. Well, the damage was done and I took the clock down, removed the pendulum, took the hands off, removed the brass ring which once held the convex glass after finding the three brass screws holding in place. With it the clock face was attached. This revealed the internal mechanism. Immediately I could see "Waterbury" inscribed on the clock works. I thought what I could do to alleviate the damage I had done and the only thing I could think of to remove the WD-40 was brake cleaner. I bathed the works removing every bit of foreign matter, new and old, oiled all the pivot points front and back, put it back together and it worked for a solid week flawlessly. I adjusted the pendulum until I had it keeping correct time and it has been working ever since.
I found a clock repair man in the area and took it to him. He put a replacement minute hand on, and a new convex glass in the brass door and here it is. It's a beautiful clock. I had full intentions of returning it to her after I got it fixed but she passed away suddenly. I would have loved to have seen the look on her face when she saw it working but I know, she's smiling down from Heaven in approval.
Editor's Note:
Click here for a short history of The Waterbury Clock Company.