waterbury mantle clock
by samantha whitehouse
(victoria,australia)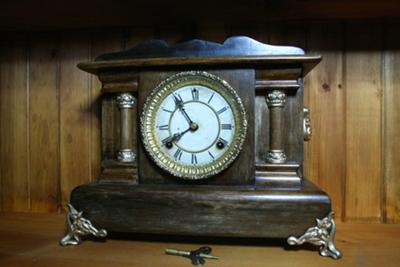 Waterbury Mantel Clock
Hi,


Can anyone please give me a valuation, in AUd, preferably on this clock and any information you may have on it. Thank you.
I brought this clock over from the USA several years ago. It had been partially restored, I finished the restoration (sympathetic) and obtained the brass parts and fixtures.
The movement is now in very good condition and keeps good time, there is also some remains of the manufacturers details on the back..., the clock model is the 'Dorset'.
The box is solid timber and firm, there is a slight mark on the rear upper edge. The chimes are on the hour and half hour, the half hour is what I describe as a shops bell sound, the full hour is a standard gong..
The Waterbury company was established in 1857 and lasted to 1944 when it was sold to the United States Time Corporation...I have roughly dated this clock to somewhere between 1870 and 1890.