Trying to date this Vienna Regulator
by Michael
(Sydney, Australia)
RA Vienna Regulaor
All I know is that this is a vienna regulator with RA on the Pendulum. I understand that the R & A abbreviate French words which refer to Fast & Slow adjustment.


There is no makers name or factory number on the case.
Click here to read or post comments
Return to Identify Your Antique Clock.
Vienna Regulator
by FP
(E TN)
Vienna Regulator
My brother and I bought this clock for mom when we were in junior high. She loves this clock and it will not be for sale, however it is in need of repair since we didn't know it was supposed to have maintenance intervals somewhat less than 30 years apart.

Our immediate goal is to identify when it was manufactured and approximate value to aid us in whether to repair or restore to period correctness (if only a $100 or so repaired, higher value we'll restore.)

What I know is couple previous repairs are no-no's (solider, ect.) The top ornamental piece is not correct as the bottom center knob on cabinet. The pendulum I believe is also incorrect for this movement and cabinet.

So far the most I've been able to learn is the movement is possibly Ruttmann and Klein of Kempten #44092(Germany.) Their manufacturing facility established 1877. What I'd like to know is when it was actually made and if any body has enough photos of the top piece that I can carve a replacement to keep the clock correct.

Return to Identify Your Antique Clock.
Antique German Wall Clock
by Susan Szaters
(Victoria, Australia)
This clock is made by Gongschlag, numbered 2943, DRP N55006, 42/105. Also has a circular emblem with the letters F,M & S within the circle and topped with an eagle.

Apparently clocks with an Adler movement had pictures of eagles on them. The clock has Gridiron rods with an R & A brass shelled bob. The clock face with roman numerals and the bob, I believe to be fired enamel, it has an eight day spring-wound movement and it strikes the 1/2 and 1 hour on a coiled gong.

The clock was inherited from great, great grandparents, and the clock is mounted in an oak box, which I know not to be original.
I would like to know what the original box would have been, style, type of timber etc,and the age of the clock. I would also like to know any information on "Gongschlag".

Return to Identify Your Antique Clock.
German Clock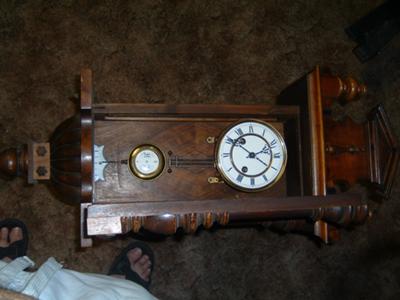 Vienna Regulator
I bought this clock at a yardsale for $25. The numbers on the back plate are 4 3/4 43128 D.R.P. N.55006 and the trademark is an eagle over a ball with the letters F.M.S., this I learned is the Frederick Mauthe Schwenningen Co.

There is also a brass plate that the face attaches to with FM on it. The face and pendulum are enamel with Roman numerals. And it has a wound spring looking thing that is the gong. I think the wood is walnut, the grain forms a diamond pattern at the back of the clock case, and the sides of the case are glass as is the door.

Could you help me put a date to it?

Thanks Irishgirl


Return to Identify Your Antique Clock.
Can't make out the name on the dial
by Kathy
(Amarillo, TX)
Vienna Regulator Wall Clock
Purchased from an estate of a 91 year old lady, had been hanging in neglect in her garage.

I am in the process of gluing the parts that are loose before I take it to be repaired. I would appreciate any info on maker or date, thank you.

Here is a close-up of the dial: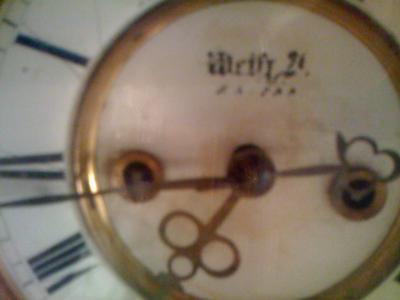 Click here to read or post comments
Return to Identify Your Antique Clock.
An Old Clock That Needs a Good Home
by Rick
(Westminster,California)
Vienna Regulator
Its a Wall clock, about 50 inches in ht. and 20 inches in width and 10 inches front to back.
The front panel glass door opens, has 2 side glass panels, 3 glass panes all together.

Dark wood, maybe Mohogony?, single pendulum, no weights, strikes every half hour.
Under the pendulum I can read the letters DRCA, real brassey fancy brass work....is as far as I dare go.

The face is ceramic looking, in nice shape (no cracks). Roman numeral numbers, redish crests in between each number, face measures about 7 inches to 8 inches wide counting the brass trim.

Keeps good time, the striker sounds a little week or not striking properly? Has a key to wind it - maybe original?

Anyways, been wanting to sell it on ebay, can't seem to find the exact match, don't know where to start.

I got it from my family, passed on to me, been running it off and on for about 8 years, nice conversation piece, but never knew what I was talking about.

I think maybe German? I really don't want to tear it down to find out what or where or year, just want to sell it for a fair price and figure out how much my starting bid should be.

Ran into tough times, I need the money if its even worth anything? So found this site looking for some honest answers, I'm hoping someone will help me.
Heres a picture, maybe this will help, Thanks to anyone whom can take the time. God Bless, My name is Rick
Click here to read or post comments
Return to Identify Your Antique Clock.
RA James Clock
by Scott Mcmillen
(San Jose, CA)
Vienna Regulator
I recieved this clock from a friend. On the pendulum, are the letters R A. In the center of those letters is an arrow pointing down. I found the RA James website and inquired to them. I was told it was a hundred years old. But nothing more. Is this information correct?
Click here to read or post comments
Return to Identify Your Antique Clock.
My Great Grandfather's Clock
by Ian Challinor
(North Wales, UK)
Vienna Regulator
My great grandfarther purchased this clock some time in the late 1800s to early 1900s and purchase it as a pair with his in-laws. They carried them home on their push bikes and have been in our family ever since and have now come to me.

I have just had it serviced and it's running well again but I would love to know more about it. I know it was made by a German clockmaker Gustav Becker and using the internet I know a little about him now but I am specifically interested in the clock. If anyone could help I would be thrilled.

Kind Regards

Ian