The Halliwell Duxbury Grandfather Clock
by Harriet
(Bradford, MA, USA)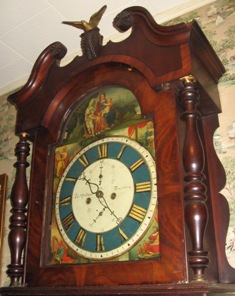 Halliwell Top/Face
This clock has been in my family for over 100 years. My 95 year old mother (her mind is still sharp!) has always told us that her father bought the clock in or around 1899/1900 and at the time it was "100 years old".


There is some writing on the inside which says that "this clock is 200 years old" - written in or around 1999 - the rest of the words are very difficult to read.
It's a family heirloom/possession and I'm not interested in selling it. I would like to know more about it, though, and perhaps its ballpark value (do I need to insure it?). It is in pretty good shape for its age, although there are minor issues and some warping at the bottom.
I cannot find out anything about the maker - Halliwell Duxbury isn't exactly a household name. Can anyone shed any light on the maker of this clock? It works like a charm and keeps perfect time (it was repaired many years ago by a clock maker/repair person in my area).
It is very tall - about 8 feet. Mother tells me it's "always been screwed to the wall" - presumably granddad "didn't want it to fall over". I have taken many pics of the clock and have only attached one here of the top. The paintings/pictures on the face of the clock are really quite nice and I have closeups of those if anyone is interested in seeing more.
If anyone knows anything about the origins of this clock, please let me know and I'd be happy to provide more pics to help you identify it.
Thanks!