Suprised buy on clock
by Rodney
(Valdosta, GA)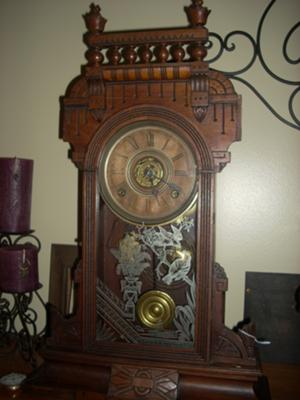 William L. Gilbert Parlor Clock
I bought this a couple a weeks ago with the understanding that it needs work, there was no pendulum and no key. I took a pendulum from another clock and had to make a hanger.


The clock works fine there was just one thing the half hour chime didn't work and after inspecting the works I found out that it was an alarm and not a half hour chime and it works.
My question is how do I find out how old this clock is the only markings on it is on the clockworks. It has on it Wm L Gilbert and has the words PATT JUN 3 1879.
I'm not sure if the date is when the clock was assembled or just the works patented on that date.
I'll try and get a picture also.
Thanks for any help.
Click here to read or post comments
Return to Identify Your Antique Clock.