Seth Thomas clock, please help
by Niki
(Denver, CO)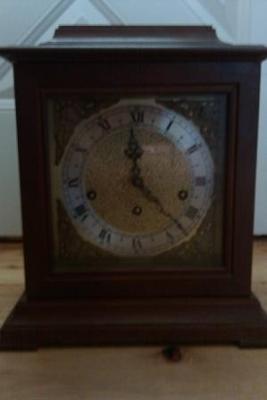 Seth Thomas Bracket Clock
This clock has paperwork that says it is a model 1309-000, but I can not find any information on it on the internet. I would love to know more about it, I picked it up at a sale and know nothing about the history of it.


I think it was made in 1976 or 1977. It does have a mechanism that was made in Germany. It is missing the top brass piece and the key. However, I have played with it a bit and am pretty sure the chimes and the mechanism will work once it's wound.
I can take more pictures if there is something additional that you need to see to help me out.
I would love to know the value if anyone has any ideas.
Thanks,
Niki
Return to Identify Your Antique Clock.