Pretty Gilbert Clock
by Beth Witte
(Missouri)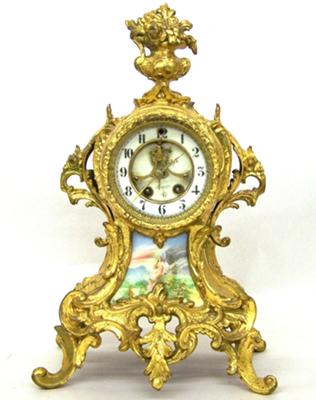 Gilbert Clock
The movement is marked Gilbert Clock Co., Winsted Conn., USA with a number 9287. Also PAT. APL 28, 1896 and PAT. DEC 23, 1902.


Open escapement with three key winds, one above 12 o'clock and two larger ones at the bottom of the dial. The base of the outer ring of the dial says "Made in United States of America by Wm. L. Gilbert Clock Co. Winsted Conn.
The overall height of the clock is 14" and the case is gilt spelter or white metal. The movement is loose in the case and it doesn't run. Hand painted porcelain inset in the base of the case.
Any information about the model name, type of movement - anything at all would be greatly appreciated.
Thanks!
Return to Identify Your Antique Clock.