Passed Down
by Stacy
(Mishawaka, IN)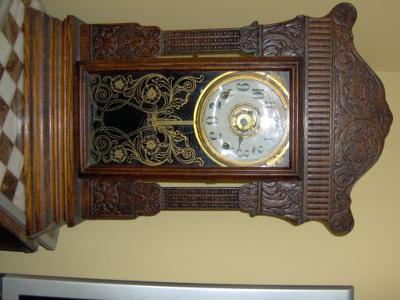 Front clock view
To be honest,I know very little about my clock prior to receiving it from my grandmother's estate. Supposedly it was passed down to her from her mother, but I honestly don't know if that's actually true.


The only thing I remember was that since I was a little girl, I always remember this clock sitting on top of my grandmother's TV (console TV of course).
I've moved this clock around with me since I inherited it... from home to home, from city to city. It no longer works- it hasn't since I've had it.
I've just recently begun to wonder where and how it came to be and also if I should pay to have it repaired. It's not necessarily my style, but it seems interesting to me to possess somthing that's older than I am (or I assume it is).
Any information availabel would be greatly appreciated. Front and back view pictures are included. It's obviously a Wm. L. Gilbert Clock Co. clock- that much is still visible on the label on theback. Other than that- you can only really make out an uppercase "M" branded into the back panel of the clock. There is a city on the label- "winsted..... U.S.A." It also looks like it had a name/ title,and the only thing left is ... 13.