One of a kind clock?
by Laurie Chmiel
(San Francisco, CA)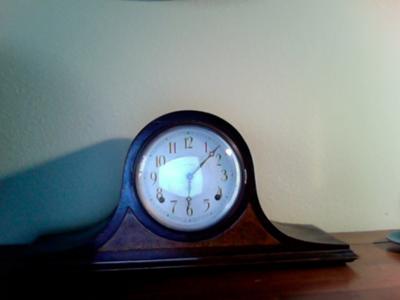 Seth Thomas Mantel Clock
This clock was owned by my great grandmother, so it must be at least 75 years old, I would imagine. It has a clock face I've not seen in Seth Thomas with the exception of one. But that clock didn't have what I call the spiderweb on the face.


It is a no. 89 made in Thomaston, Conn. It has the original directions on the back of the door, and has a key unlike any other I've found. The front, under the face has an inlay of wood, looks like some kind of burl or something.
My search has shown that many almost identical Seth Thomas no. 89 mantel clocks were made, but each seem to be slightly different.
Anything you can tell me about these clocks (especially mine!) would be of interest to me. I've been in love with this clock for almost 50 years and now it's mine! Thanks dad for not waiting to leave it to me, but handing it over on one of my recent birthdays. One of the best gifts I've ever received.