No clue about this clock
by Melissa
(Phoenix, Az)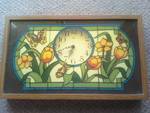 Clock
I know nothing about this clock. It has butterflies and flowers on it. I looks like oak encasing around it.


It was given to me by a neighbor who was moving. I should have cleaned it before I took a picture, but I didn't want to damage the paint.
Can anyone help?
Click here to read or post comments
Return to Identify Your Antique Clock.