The New Haven Clock Company
The New Haven Clock Company stands with the other famous early American clock makers like Seth Thomas, Waterbury and Ansonia clock companies that were clustered in the New England area in the 1840's and 1850's. They were incorporated in early 1853 in New Haven, Connecticut with the express purpose of manufacturing brass clock movements for the nearby and famous Jerome Manufacturing Company. At that time Jerome was the largest clock manufacturer in the world. However, the Jerome Manufacturing Company soon went bankrupt and was purchased by the New Haven Clock Company in 1856.
An independent British sales company that had been affiliated with the Jerome Manufacturing Company called Jerome & Company Ltd. remained in business after the takeover by New Haven. The New Haven Clock Company continued international sales and capitalized on the reputation for quality of Jerome products overseas, marking their clocks with a "Jerome & Co." label until 1904.
The New Haven Clock Company was a prolific manufacturer of clocks. In addition to their own timepieces, they also sold clocks made by the F. Kroeber Company of New York, the E. Howard Company of Boston, and the
E. Ingraham Company
of Bristol, Connecticut. This practice was stopped in 1885. They added a line of low cost,
dollar pocket watches
in 1880 and continued making them until the 1950's. Wristwatches were added in 1915 and continued until 1960, with a hiatus like other clock manufacturers to fabricate war materials during World War II. By the early 1900's they were one of the largest of the American
clockmakers.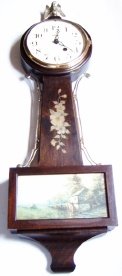 In the early 1880's, New Haven produced the Flying Pendulum novelty clock where a flying ball takes the place of the pendulum. Although it was not very accurate, it was heavily advertised and manufactured several times until the 1950's.
Antique New Haven clocks are prized by collectors and many fine examples are available in the marketplace due to the popularity and quality of the original clocks. One antique clock price guide lists 329 models for the New Haven Clock Company. In addition to traditional shelf and mantel clocks, the New Haven Clock Company is known for its fine line of wall clocks called regulators. By definition a regulator clock is a precise timepiece that focuses on keeping highly accurate time by the design of its clockworks. The New Haven Clock Company was one of just a few clock companies that made calendar clocks as well, combining date and time functions into one wall clock. Some of these elegant calendar clocks featured a double dial design, one for displaying the time and one for indicating the date. These somewhat rare models consistently bring high prices when offered for sale.
The New Haven Clock Company also made some fine examples of American china clocks and statue clocks that appealed to upscale households in addition to a complete line of shelf and mantel clocks. They even made some fine tall case, or grandfather clocks. It is truly unfortunate that after several brushes with bankruptcy over the decades, surviving the years of the Great Depression, and converting production to support the war effort for World War II, that this great American icon of clock making succumbed to bankruptcy and closed its doors in 1960.
There are not a lot of New Haven clocks in my own personal collection, but pictured on this page is a Willard model, banjo clock with an eight day movement that I have just recently re-bushed so it now runs and keeps accurate time once again. I also have a Mission style wall clock from about 1903 that is not running and still needs my attention. Although neither of these clocks are worth a whole lot of money, I couldn't pass up the good flee market price that I found them for in their non-working condition.
Another place I find good deals on New Haven Clocks is on Ebay, where there is almost always a great selection. Look below to see what's selling right now. (You can enter anything you want in the search box also)


Back to Clock Companies.