New haven Clock Company - Help me date it and more!
by Matt
(Vermont)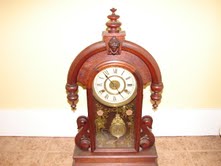 New Haven Mantel Clock
This is the second clock I am posting on this site. Unlike the first, the paper label on the back is intact. This is the only reason I know the maker.


This clock was my Grandfather's as well. He was an antique dealer and had some idea about which clocks to keep when he passed by one.
It has a really cool face carved into/out of it near the top. I am unsure of what kind of wood from which it is made.
Can anyone tell me about this model, its date of origin, its rarity or value? I won't be selling it, but it would be nice to brag about, I suppose.
Return to Identify Your Antique Clock.