New Haven Clock - can anyone help?
by Beth
(Pa)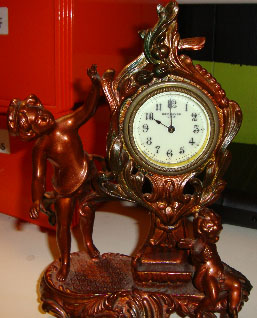 New Haven Clock
Hello everyone. I was looking for information about this clock. It's a New Haven clock and it looks like it's either bronze or it was re-painted.


The antique shop didn't know much about it other than it was probably late 1800's early 1900's. There is a lady on the left side and there looks like a cherub sitting on the right side. The clock face is white it winds up and has a slow and fast setting on it.
Return to Identify Your Antique Clock.