Need Information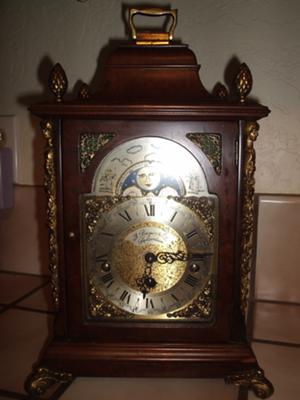 Bracket Clock
My father bought this clock for my mother over 20 years ago. She use to wind it up to hear the chimes. My father did not like the sound so she stopped. This clock has been sitting for over 10 years. I know nothing about it. Both my parent have passed away so it is mine now. My mom always told me never to let it out of my sight. I have no idea if it is worth anything or if it is where I could sell it.


Any information would be nice to have. I will answer any question you may have for me. The movement inside is engraved (stamped) 75 Germany 340-020. The front has the name A Bazuin & Zn Rotterdam on it. Thank you for you time. Linda Littlefield
Click here to read or post comments
Return to Identify Your Antique Clock.