My Seth Thomas Clock!
by Dawn
(Warren, OH)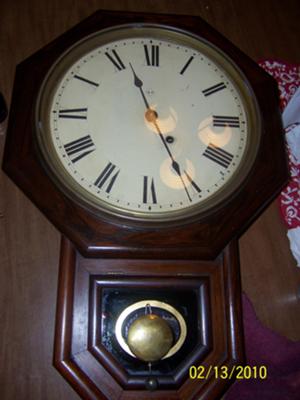 Seth Thomas Schoolhouse Clock
I know my clock is a Seth Thomas Schoolhouse Regulator wall clock. My husband bought it from an antique dealer for me for valentine's day.


Growing up I had the exact model on my living room wall. My great-grandmother brought it home from work at the telephone company and it hung on the wall in my mom's home from the 1920's until 1999 when it was then given to my sister.
I have always loved the clock so my husband when finding a duplicate bought it for me. I love it!!!!
It is is octogonal with a brass pendulum. It has a label inside with hanging instructions. It says Seth Thomas on the label inside and has small S. T. initials on the face. It has Roman numerals as numbers and is all original in full working order.
Inside the clock is a card from a clock/ watch shop of Robert Morison of Lexington Mass.
Can you tell me more about it? The year it was made, the value... anything at all.
Thanks so much!