My Portuguese Wall Clock
by Cindy V
(Ocala, FL)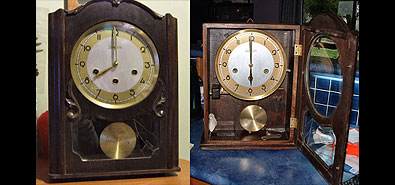 Antique Portuguese Wall Clock
The clock is wooden and it has beautiful scrolls on each side of the panels. It is supposed to be used as a wall clock, but I actually use it like a mantel clock and have it on top of my fireplace. It is a perfect accent.


There are also 2 clear chimes, which upon ringing, create such a beautiful melody. I still have the original instruction paper which is written in Portuguese, my Portuguese reading skills are not the best, but I have gotten the basics.
My Aunt had this clock sitting on a high shelf in her garage and when I inherited her home it was full of dust. I brought it in the house out of curiosity and spent a couple of hours cleaning it up, or rather detailing it. From what I've been told, this clock was purchased by her late husband's mother very many years ago and was given to my aunt as a wedding gift. I am assuming that my aunt did not realize how very special this clock actually is or she would not have just left it sitting on a shelf in her garage.
I don't have much information about it, but I do know that her mother-in-law resided in Ave Maria. I would assume that the clock would have been made locally as the locals in Portugal are known for being very creative and skilled in producing gorgeous works of art.
It still works, with a few kinks of course. Every so often the brass pendulum goes out of whack, but eventually it kicks back into place.