My old Welch Clock handed down to me.
by Chip Whitley
( Carthage Mississippi)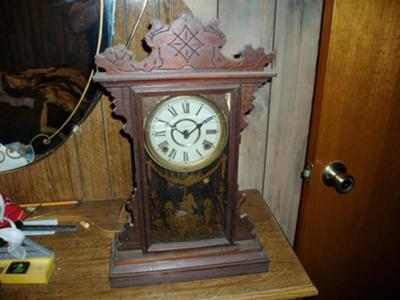 E. N. Welch Kitchen Clock
I have a old E.N. Welch clock that appears to be a mantle clock. I really dont know how old this item is but from what I have researched it came from the late 1800's to early 1900's era.


This clock is 21 inches tall at the highest point and 13 inches wide and 5 inches thick.It has etched glass on the front with a angel in the center.The cabinet looks to be hand carved out of walnut or some other hardwood.It has the original winding key with it. It has a chime that will strike on the hour and every half hour.
I will enclose a picture . I would like to know the year of mfg. and the estimated value I might consider selling if price is right. This clock runs and chimes ok.
Return to Identify Your Antique Clock.