My nameless clock
by Jose Nuques
(Augusta, Georgia USA)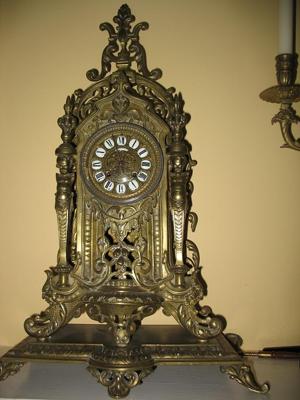 French Clock
I own a French bronze mantle clock with matching candelabras. I bought this clock in Puttenlage Aux Lacs, 8 years ago. I bought for it's uniques style and it's matching candelabras.


The clock has two young boys without arms as pillars to the clock. The clock measures 18 inches tall. The clock has a small porcelain identification tab under the uumber "12: Lambert Levy F2" (not sure if this is correct, the F could be an R. Under that is "Boutl St. Martin 3133." (Boutl, could also be read as Boull).
If anyone could tell me a something about this clock, I would greatly appreciate it. The year and location would be nice to know. It has it's original parts and works great.
Jose
Return to Identify Your Antique Clock.