My Grandpa, the clock repair man
by Roxanna
(Indianapolis)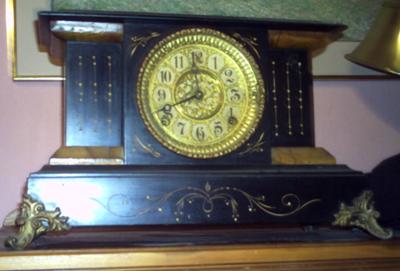 FLORENCE-Wm L Gilbert Clock Co.
This clock was handed down to my Mother from Grandpa in 1954, it was his present to her when I was born.


I would sit by him for hours quietly watching him work on his clocks...it was calming to him. It has been in our family for years.
It has gold color inlaid scrolls on the sides, on the 4 corners outside the face and scrolls below the face. Metal legs. It has FLORENCE Wm. L. Gilbert Winstead, Conn. U.S.A. on the bottom.
It also has 3 places on the face to wind it up (I have no keys) It has the small letters of s & f on either side of the 12. Beautiful gold face plate with places for the #'s on it cut out. I would like more info on this clock.
I have just about exhausted my searches on the internet about where and who made it.
Anybody tell me more?