My Grandmother's Gilbert mantle clock
by Joe
(Tennessee)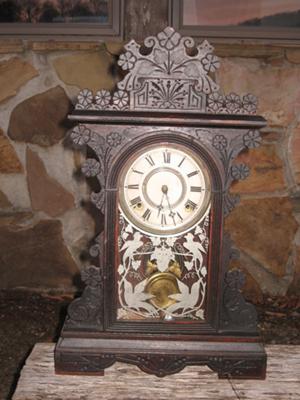 My grandmother's Gilbert mantle clock
This clock, from my grandmother, dates probably from the late 1800's. She was married 1889.


It is 23" x 15" and 4.5 " deep. The sticker on the back says manufactured by Wm. L. Gilbert Clock Co., Winsted, Conn. Above this information on the sticker is a (probably) 7 letter word in bigger print beginning with DE, and perhaps this was a name given to it.
The pendulum has a fast-slow adjustment pointer on its circular front face, and also the clock company's name. A spiral behind the pendulum gives the gong sound.
Return to Your Favorite Clock Picture.