My Favorite Clock
by Susan
(Ohio)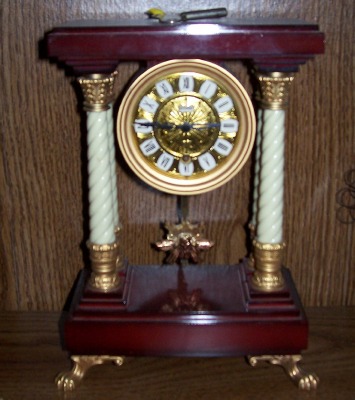 My Favorite Clock From England
This is a picture of my favorite clock that has been in our family for many years. About two years ago when my husband and I moved into our first house, my mother gave us the clock. It was a very special move in present from them. The clock was from my great grandfather.


He brought it home when he went to visit England many years ago. The clock was bought in a very expensive, local family run business in England. I do not know the store name, but I believe my parents know it. My great grandfather brought it back and he always kept it over the fireplace. Now it has been passed along to our family. The clock is in superior shape.
The clock has a key that you insert in the back and wind the clock. It needs to be wound a few times a day to keep the time. The pendulm swings back and forth with a distinct "tick-tock" noise. This has always been a piece in my parents house that I have loved. It is something very rare and I have never seen another one like it.
I hope to always to be able to keep this tradition passed along in our family. I hope when we have a family some day they will love it and appreciate it as much as our family has. I would love for that clock to talk and be able to tell the story of our time, our heritage.
I hope everyone enjoys the picture!
Editor's Note:
Find out more information about
European clocks here
.