My father in law brought this from Brazil
by Mike
(Chicago,IL)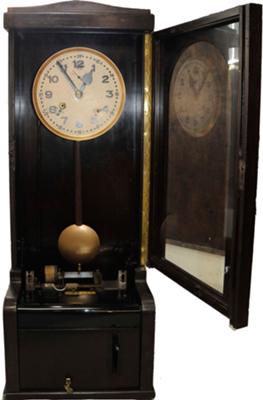 Punch Clock
My father in law bought this clock from a salesman who worked for him about 30 years ago. The salesman sold punch clocks before working for my father in law. When he sold a new punch clock to a customer, they would ask him what to do with their old clocks. He would take them and my father in law bought this one and others.


It has been on his farm in Brazil for the last 30 years.
The clock mechanism works but the connecting rod to the punch mechanism is missing and I don't think the punch mechanism is advancing properly.
Any help identifying, dating and/or repairing this clock would be greatly appreciated.
Mechanical drawings would be amazing.
Thank you,
Mike K.
Return to Identify Your Antique Clock.