My Clock
by Thomas Mercer
(Douglas, Ga.)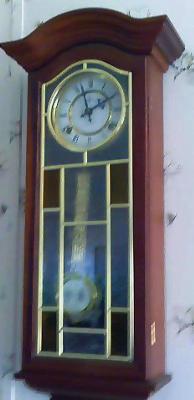 Elgin Wall Clock
I am not sure of the date or value of this clock. It has a stained glass front with Elgin and 31 day on face.


It is in excellent condition and works great. It has no markings, dates or anything on it. I have a key that works.
The clock strikes on the hour and a single strike on the half hour. I would like to have a value for this clock.
Clock was given to me around two years ago. Any ideas?
Click here to read or post comments
Return to Identify Your Antique Clock.