Musical, Wall Clocks - Buried for 22 Years
by Kam
(Central City, NE USA)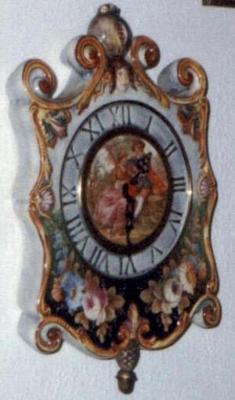 Capodimonte Musical Wall Clock
My brother-in-law, Mike, owned a shop in Estes Park, CO, inherited by his father. In 1984, while going through a warehouse full of merchandise, Mike discovered some unopened crates. In one of the crates he discovered 2, new, Capodimonte, musical, wall clocks.


In the paperwork he found out his father had been to the 1961 World's Fair in Washington state, and had purchased the items for his Estes Park store. For some unknown reason, he never opened the shipment. These clocks are hand painted (one signed by the artist, Baldy); Roman numerals molded into face of both; battery operated clock works; made in Italy; have original World's Fair (only they spell it Fare)labels; with Capodimonte markings.
Pulling the acorn at the bottom of the clocks the Swiss movement plays Zivago's "Laura's Theme".
One clock is of raised cherubs; pastel blue with a variety of beautiful pastel colors. One is black/gold with brightly painted flowers; French couple on the face. I was the fortunate receiver of both clocks in 1984. To make these items even more special, Mike gave me a Capodimonte musical carousel, pocket holder, to match the cherub clock.
These three items have adorned my home for 24 years now. The clocks still keep perfect time and play the same beautiful music as they did when I received them. I have yet to have one person walk into my home and not admire either the clocks or the carousel...then insist on hearing the music. ~smile~