Mr Gills Clock
by Dan
(Baltimore MD)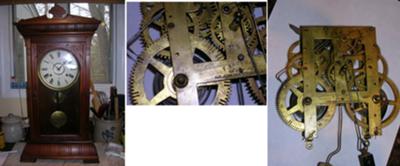 F. KROEGER CLOCK
My wife's Great Aunt Sally Quinn had a "Gentleman Friend", Mr. Gil, in Purdy's, Westchester County NY. When Mr. Gil died, he left his house and contents to Aunt Sally. This clock came from there to us.


It is a F.Kroeber clock. A partial label on the back says in part:
F. KROEBER
MANUFACTURER
NEW YORK
Inside on the movement is stamped :
F.KROEBER
NEW YORK
PAT. June 23 $ October 6 1874
The movement is also stamped the numbers
77 1/2 (or possibly 11 1/2, the first 2 digits being hard to read) ....see picture.
I cannot find the particular model in any of the online resources, but would like to find out the model No./Name, and when it was made. Pictures are attached. Thanks..Dan, Baltimore Maryland.