Marble porcelain antique clock
by Djordje Jojkic
(Belgrade)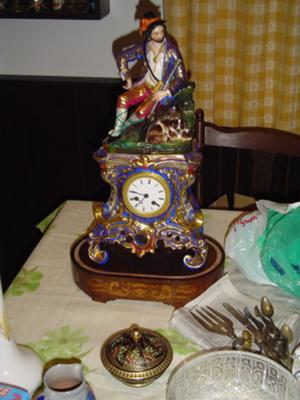 Porcelain Clock .
It is a Porcelain Mantel clock, two piece.


I don't know much about this clock, it left from my grandmother. I hear story that it was made in Vienna, around 1800 ...
But I was found on internet very similar clock:
http://www.antiqueclockspriceguide.com/clockdetail.php?id=31922
C.1850, French, Porcelain Mantel clock, two piece, with costumed lovers on top, the base color blue cobalt accented with gold highlights and floral displays. The silk thread bell strike movement with countwheel, 8-day.
Condition: the rear dust cover of brass is from another clock, but suffices. Otherwise this clock is in excellent original condition with clean porcelain dial and no chips nor breaks in the case. It is likely that this clock spent most of its life under a dome. Ht of both pieces = 15.75"
But I can not indentify manufacturer, and I can not find same clock that I have.
Here are images of my marble porcelan antique clock, and I will be very happy if someone know more about this clock, manufacturer, stile and even price on market.
Thanks in advance