Longwy "Henri II" Faience Clock Set
by Robert Seidenwerg
(Bogota, Colombia)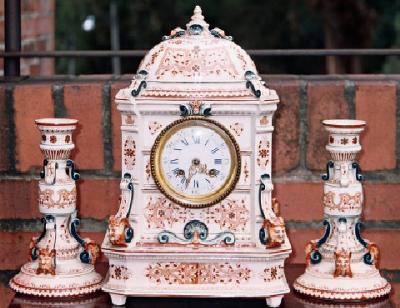 Longwy French Porcelain Clock Set
Browsing through a local antique shop, I saw a rather weird looking porcelain clock set. Looking at the base of the clock and the candle sticks, I saw the mark Longwy, the clock having a number 1986, which did not seem to me to be the right year of manufacture. Back home at the computer I found out that the pottery Longwy still exists, and so I got in touch with the owners who congratulated me on getting their clock, produced on 1 September 1886! I went back to the antique shop to buy the clock set, but with the problem of not knowing what I bought. I decided to put the set up for auction with a limit of $6000 with no intention of selling it. I got an email from France telling me how beautiful the set is, and an offer after the auction expired, of $1850 from Miami. That offer made my day.


About 18 months later I got another e-mail from France, asking me if I still had the Henry set, to which I replied that I did still have it , but have no intention of selling it. Philippe and I started thereafter a weekly correspondence, during which I learned a hell of a lot about porcelain and faience clocks. He sent me photos of his Longwy collection, of which he had at that time some 50 clocks. Today they must add up to nearly 80. What struck me so interesting was that this fellow only bought Longwy clocks. He could resist buying other beautiful clocks, which he pointed out to me, so I could buy them
Behind all of our correspondence was, of course, his wish to buy my set, since he pointed out now and again, that his collection was missing it. In the end I succumbed and sold it to Philippe, with whom I am still corresponding, and who filled my house with beautiful French porcelain clocks other than Longwy.