L.F Moreau - a nice old clock.
by Sunny
(Buchanan, MI)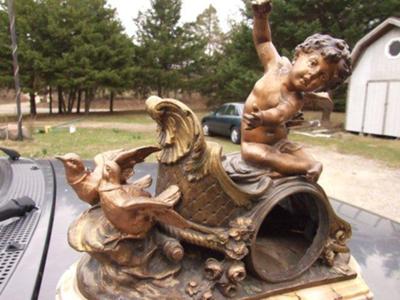 The clock!
Hello all. Greetings from South West Michigan.


Picked up this clock at an estate auction few years ago. The clock is a bronze/brass clock. It has a marble base.The clock is in good shape and represents an angel in a chariot and two birds pulling the chariot.
The words - "L & F Moreau" and "France" appear at the bottom of the bronze structure. The dial has the words "Silvin and Paris" on it. The numbers 52092 appear on the back of the time keeping unit, as do the words Silvin and France. The actual dial and the unit were taken out from the clock when I took pictures of it. You can see the pictures here http://www.flickr.com/photos/kamathsj/sets/72157623748376660/
Initial research indicates that this clock is from the late 1800's.
What might be the value of something like this?
Return to Identify Your Antique Clock.