Large Mission Style Wall Clock
by Krystal
(Parkville, Missouri)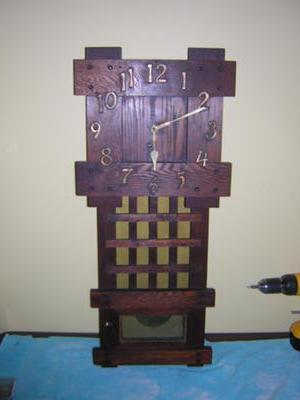 Mission Wall Clock
I found this clock in the hall closet of the house I moved into. It needed a few nails and glue for all the loose pieces. Looks like it has all the parts to make it work, but I am not the person who is going to figure that out.


It's 32" tall and 15" wide and has a label on the back that says American Manufacture, Antwerp, The E. Ingraham Co.
Would like to know how old it may be and any approximate value is somebody knows.
Thanks.
Krystal
Click here to read or post comments
Return to Identify Your Antique Clock.