Kienzle Zodiac Clock
by Oscar Baldomero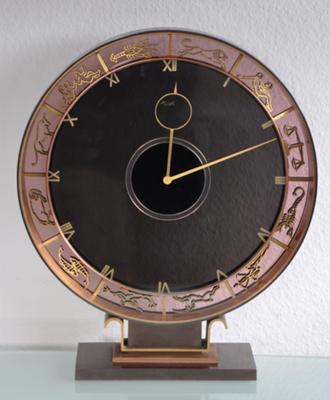 Kienzle Zodiac Clock
I recently bought this stunning kienzle mantle clock.


It has an 8 day movement marked (8 tage / 15 steine)
It stands 11.3 in high and has a diameter of 9.9in.
It seems to be made from a number of metals, having a bronze stand, while copper and brass make up the edges of the dial. The face and back are in crystal glass.
I am not sure of the designer, but it may be by Heinrich Möller who was designing clock for Kienzle during the 1930's.
Return to Identify Your Antique Clock.