Kienzle regulator patent 1914
by Stephen
(Wake Forest, NC, USA)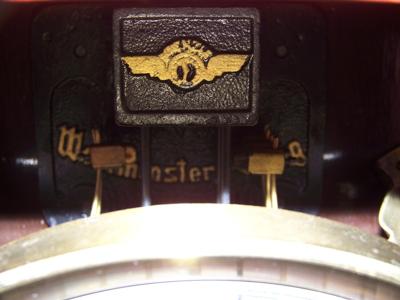 Rod Holder - Kienzle Clock
This is a Kienzle wall clock, quarter-chiming with Westminster chimes. It uses tone rods, and has a great sound. It has a silver-colored face with black numbers and hands.


The face is surrounded by what I guess is a brass bezel ring. It has a silver-colored pendulum bob on what appears to be perhaps a mahogany shaft.
The movement is Kienzle, and has a black cast rod holder with the Kienzle winged wheel logo and "Westminster Gong" in gold-colored raised letters. At the bottom is a label with the Kienzle logo in the center, REG U.S.A JUNE 2, 1914 on the left and PAT U.S.A SEPT. 2 1914 on the right.
Other than this, there is no label to assist in identification.
The case is dark with a reddish tone visible. I think it might be mahogany. There are two panels, one on each side in which there is a deep red fabric that looks like it was glued in place. These panels are removable, held in place by notches at the top and bottom and a tension spring at the top.
The cover has a domed, round glass cover for the face of the clock. The lower part is made up of three rectangular, beveled-glass panels, all of which are 10 3/8" tall. The two outer panels are 2 1/4" wide and the center one is 2 7/8" wide.
This clock was purchased by my wife's grandmother, but we don't know when. It was previously at her parents' house, but we brought it home this spring. It has been at a clock repair shop for some time, and we just got it home. It is running nicely now, and seems to be keeping very good time.
Please help identify this clock.