Iowa State University Clock
by Jim
(Eatontown, NJ, USA)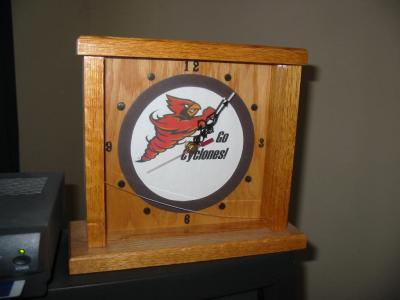 Iowa State University Cyclones Clock
My favorite clock is this Iowa State University clock which my father made for me back in 2001. I graduated from Iowa State in 1981. I make lots of trips back to Iowa to visit my parents but I always work in a visit to ISU for a football or basketball game or the big VEISHA celebration in the Spring.


My Dad loves woodworking and has made all kinds of things. Since he knows I love the school, he decided to build this clock. I accidentally broke the glass a couple of months ago and so I'll bring it back with me on my next visit so that he can replace it. I'm not sure what type of wood it's made from. He stained it so it has a slightly darker color. He made the ISU Cyclones logo on his computer and transferred it to the clock face. He used commercially available clock movement and hands.
I know it must have taken a lot of work to make it all fit together well and then to carve out the grooves for the glass front. On the bottom of the clock, he added a decal which reads, Designed and Crafted by: George.., Father For: James.., Son 01/21/2001.
I have it sitting on my television so that every time I sit on the couch, I see this clock and remember home. I'm sure my Father has been thinking of the future when he's gone and he wanted to give me something to remember him by. How could I not treasure this as my favorite clock?