Inherited Wall Clock
by Dave
(Canada)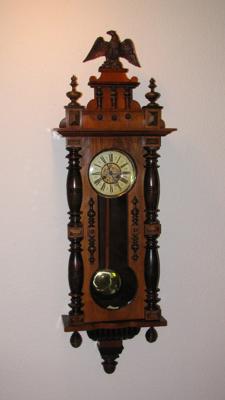 Vienna Regulator
I received this clock when my father passed away, I cannot find any external markings.


It looks like a late 1800's Vienna style clock. It has a spring wound movement and gong (hour and half-hour)
I don't want to take it apart to see what the movement says on the back, and I can't seem to get a mirror in there to look.
Any help would be appreciated
Click here to read or post comments
Return to Identify Your Antique Clock.