Inherited Tiffany & Co. Clock set
by Mary
(North east)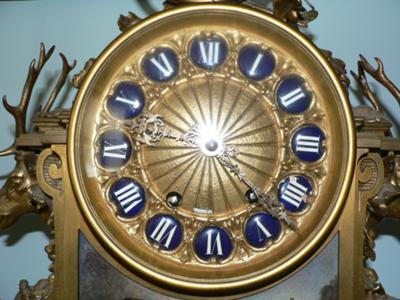 Inherited Tiffany & Co.clock set
This clock set was my father's. He collected French clocks at one time.


It has what looks like hand painted porcelain scenes of hunting, and all pieces have gilded deer or elk and oak leaves, etc. There is a hunting bugle and sword on the top of the clock, too. It weighs a ton.
I'd like to know when this clock set was made, and for whom. Was it a one of a kind made special for some great hunter?
The dial and the movement are both marked Tiffany & Co. The porcelain " & Co." is missing from the face.
The face is brass with porcelain roman numerals.
There is a number on the movement, 5595.